-new 1x19 316SS standing rigging
-new Sta-locs and backstay insulators
-new Profurl with new control line blocks
-new lifelines
-new Quantum mainsail (new mainsail cover by North)
-new Quantum storm jib
-new thru-hulls and seacocks, and hoses
-new professionally-sprayed Imron on cockpit and coaming
-new dodger and bimini
-new Fleming steering vane
-new Simrad 772 radar
-new 4-Winds wind generator
-new 75w and 120w solar panels
-new "smart" regulators on everything
-new radar, windgen, and solar panel arch
-new cockpit cushions
-new weather clothes
-new lee clothes
-new aft deck extension for stowage and fishing with fillet
-----table and washdown pump
-new SS hotwater heater by Atlantic
-new Zodiac 6-man liferaft
-new Fortress F-23 anchor on chain/rope rode
-new 12v refrigeration
-new upholstery
-new Icom VHF
-new Magna BBQ
-new Kenwood stereo
-new fans, curtains, some lights
-new knot and depth gauges
-new Racor 500 Turbine fuel filter/separator w/vacuum gauge
-new built-in, fresh-water, retracting cockpit shower
-new hi-volume "Rule" save-the-ship bilge pump w/alarm
-new low oil and overheat alarms

-new electrical system upgrades:

-new Statpower TC-40 stand alone charger
-new Heart 1000w stand alone inverter
-new Balmar 100amp alternator
-new 300amp house bank
-new engine starting battery
-new microwave
-everything heavily wired and fused

Now here is everything that has been repaired, replaced, renewed, or just plain added:
-belowdecks Autohelm 6000 autopilot
-completely rebuilt cable-in-conduit steering
-stunning mahogany cockpit trim done in Honey Teak (highest
-----rated by Practical Sailor) There is no other brightwork
-engine cooling system removed, boiled out, reinstalled
-rebuilt/restored Baby Blake toilet (a $1700.00 toilet!!)
-Selden (Swedish) mast and boom reconditioned
-restored and stunning light-teak woodwork below
-beautiful custom wicker-cane cabinetry below
-winches cleaned and re-packed

I know I'm forgetting some things because I had pages and pages of lists over the two years. As I recall them I will add above.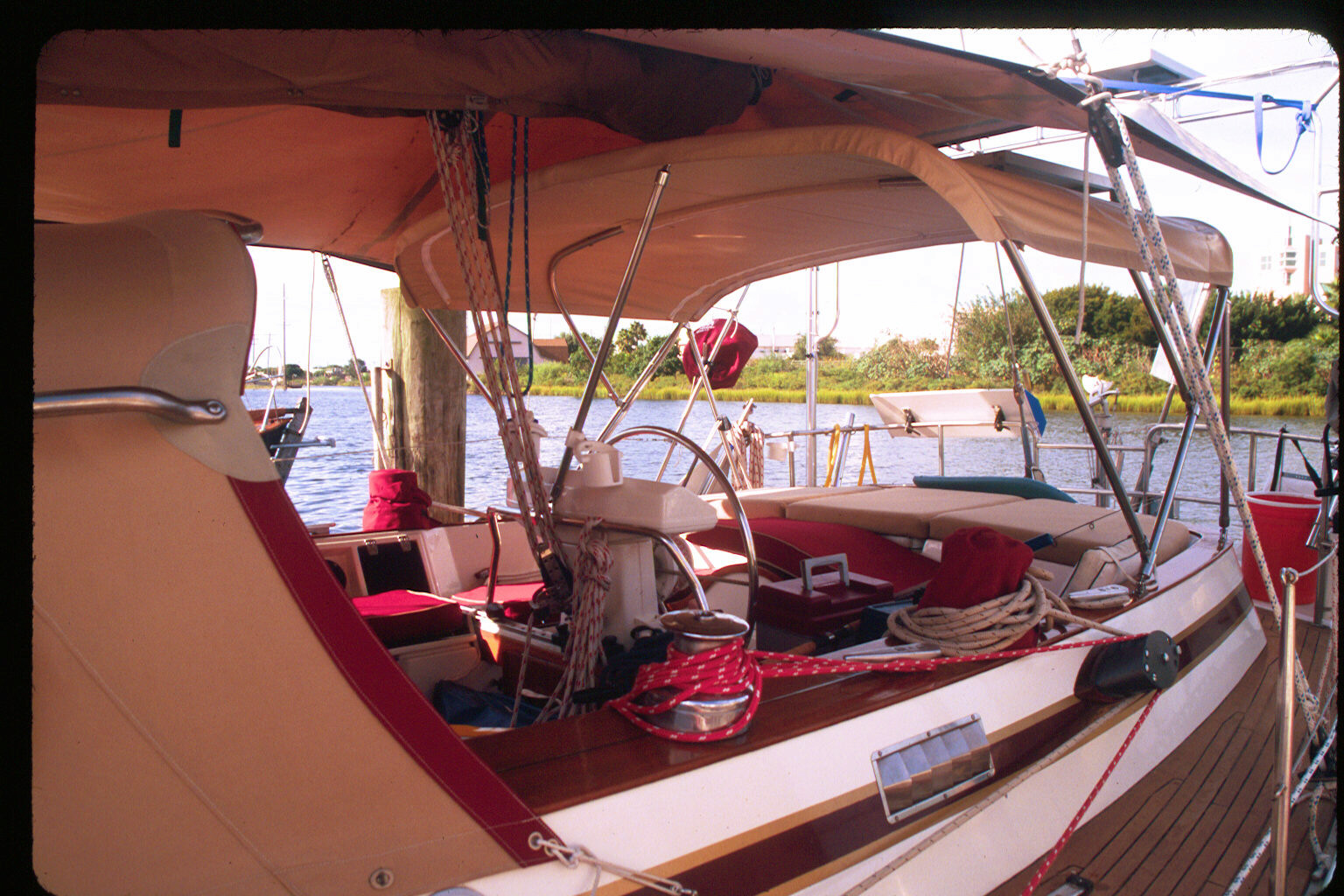 This shows the cockpit of the Bostrom 37. Note the "V" supports in the center-front of the bimini for extra strength and as a handhold while manuevering. There is a large version of this shot on another page.
Engine and Misc gear

-Volvo MD-21-B 45hp with less than 1200hrs (doesn't leak coolant or oil) Runs like a top and strong.
-45gals fuel
-70gals water
-15gal holding tank
-15' spinnaker pole
-35lb Delta anchor on chain/rope rode
-Simpson-Lawrence Sea Tiger windlass
-running backstays

More:
-6'4" deep fin keel with 7,000lbs of lead
-partial skeg rudder
-eng room doors on both sides for exceptional accessibility
(not down in the bilge)
-stand alone storeroom for storage, supplies, and gear
-vessel does not leak.....anywhere. Period!!
More Stuff:

-10.5' Achilles hypalon inflatable in near new condition
-4hp Yamaha outboard in near new condition
-scuba tank mounted in secure bracket
-heavy-duty sun awnings
-The boat is USCG documented